Reconnecting to The Source: The New Science of Spiritual Experience, How It Can Change You, and How It Can Transform the World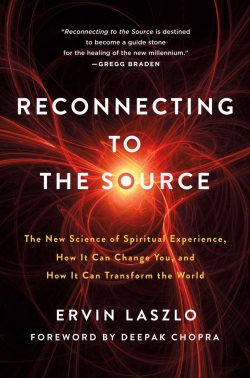 Published by St. Martin's Essentials
Renowned authority on science and philosophy Dr. Ervin Laszlo explores the implications of the new quantum sciences to move beyond the of limits of reality as we know it―and find our way again in our "in-formed," purposively evolving universe.

Reconnecting to the Source is a powerful new book on the science of spiritual experience by Dr. Ervin Laszlo. A well-known figure in the fields of new science, consciousness, and spirituality, Dr. Laszlo has inspired some of today's most important figures in science and philosophy. In Reconnecting to the Source he unpacks the science behind spiritual experience, investigating the ways in which we can access realms of experience beyond the everyday. It is in these moments, when our conscious minds are in contact or perhaps even overridden by our unconscious selves, that we can explore the depths of spiritual meaning.

In addition to a foreword by Deepak Chopra, the book includes new, never before published contributions from a long list of well-known writers and public figures―including Jane Goodall, Barbara Marx Hubbard, Masami Saionji, Zhi-Gang Sha and many more. Each contributor has written about a unique spiritual experience of their own, sharing moments in their lives that are outside of the boundaries of the usual and reflecting on the importance of these moments.

Review
"The great value of this book is not just its impassioned call to improve everyday life, or its argument for seeing reality as it really is. Both aims are very important, but overriding them is a revolution in what it means to be human. On that basis, Laszlo has hit upon the ultimate salvation of everyone on the planet, in every generation for whom being human is the prime reason for our existence." ―Deepak Chopra

"In Reconnecting to the Source, scientist, philosopher and futurist Ervin Laszlo catapults us light years beyond conventional thinking of self-help and recovery, to the very core of personal power and how to awaken it in our lives. Through true life accounts of intimate and personal journeys, Laszlo illustrates how the experiences that we sometimes discount, or are reluctant to share, are actually the clues that lead to our greatest power. I have no doubt that Reconnecting to the Source is destined to become a guide stone for the healing of the new millennium."―Gregg Braden

"Consolidating profound wisdom, quantum science and spirituality, Dr. Laszlo's seminal book is a must read for anyone who wishes to become engaged in the consciousness evolution, individually and/or collectively. Reconnecting with the Source highlights abundant evidence for humanity's need to reconnect with our wholeness, our oneness and ultimately the true source to everything: LOVE. This is without doubt the very best course of action if we are to generate a paradigm global shift in order to build a better world for us all, planet Earth and future generations. Indeed, LOVE is the medicine that will heal the world."
―Jean-Louis Huard, founder and co-creator of PeopleTogether
Paperback | 272 pages | $15.29 USD | 6.15 x 0.74 x 9.33 inches | 978-1250246448 | March 24, 2020